Social Club
---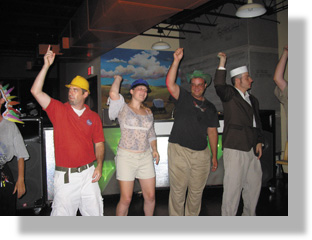 "I love social club. It helps keep me up to date with what's going on in Wichita, and it really makes me feel good to be around friends that know what it's like to have similar struggles as me."
Vaughn, Breakthrough member since 1997
This program of the clubhouse helps members avoid isolation and reintegrate into the community by providing recreational activities in a safe and comfortable environment in which members can relax, have fun and build relationships. Members with daytime employment join other members and staff for games, movies, trips and just visiting informally. Special events, parties, holiday meals and celebrations bring everyone together to have fun and socialize. We are also open every holiday on the day it is celebrated with holiday hours usually scheduled between 10am and 2pm.
Members decide which activities they would like to do in a monthly planning meeting and those ideas are programmed into our monthly schedule. Because of the early completion of public transportation nightly, we ensure that every member gets personally taken home at the end of the evening by one of our staff or volunteer drivers.
Social Club Calendar
Here is the Social Club Calendar for the month of March. We have many activities coming up, don't miss out!