Announcements
Final Friday- What gets you through the day?
Posted on 07/25/2011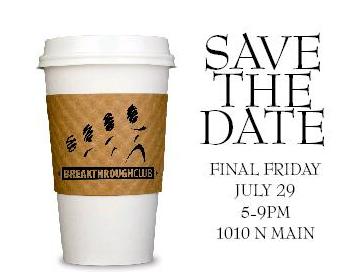 Coffee. Chocolate. Public radio. These are all things that help us get through the day. But if you suffer from a Severe and Persistent Mental Illness (SPMI), you need more than caffeine or sugar. You need a community- a family. Breakthrough Club provides that community, allowing those who suffer from an SPMI to get back into the world and get through their day.
Join us for a celebration of what gets us through the day on Friday for our Final Friday art show from 5-9pm at 1010 N Main.